Trend: Clear Heels
31 Oct, 2018
We're planning on baring it all this summer with the latest trend of clear heels at Tony Bianco.
Mixed with textured leathers and soft suedes, we're swooning over everything see-through. The go with everything heel just might be your new go-to this season – and so it should!

Whether it's Clear, Perspex, Lucite or Vynalite, we're here to show you how to wear these leg-lengthening MVPs.
The clear shoes trend has clearly been given the nod of approval (excuse the pun!). Our collection has been seen on Hailey Baldwin, Patricia Manfield, Jennifer Hawkins and Pia Miller.

We've compiled our top 5 ways to wear clear vynalite shoes, because we're nice like that!



1. Pants and 'that' top
Elevate this classic combination with clear heels that will instantly take any casual look to the next level. Jeans and a knit? Tailored pants and blouse? We've got you covered for all of those times it's a 'pants and a nice top' kind of day!


2. Feminine dress
Take a feminine floaty dress and pair with either barely-there heels or a smoky strappy statement. The contrast of the femininity and edginess will be a stand-out combination.


3. Mini party dress
Another classic that often goes best with simple and minimalist shoes. Whether it's silk, leather or printed, take a black heel with a smoky vinyl feature and you've got the perfect party outfit.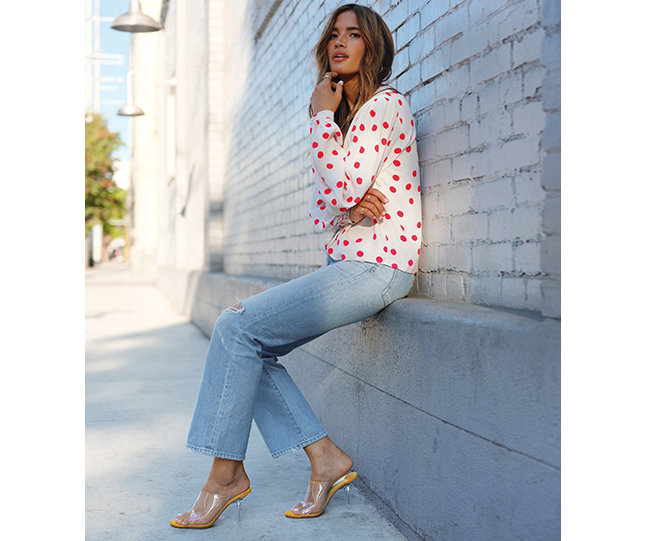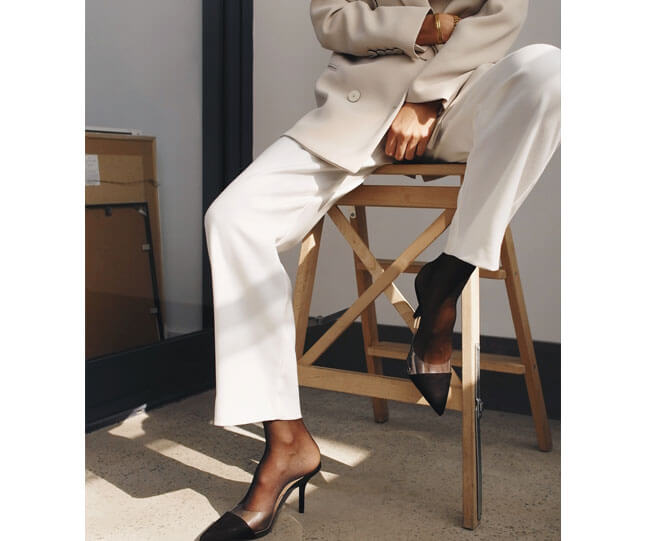 4. Power suit
A nod to the era of power dressing, shoulder pads and terrible perms, the power suit has had an update. Think beautifully draped wide-leg pants and an oversized blazer. Accessorise with sheer stockings shown through clear vinyl detailed heels. Hard to imagine? Don't worry, dream TB girl Pepa Mack shows us how it's done!
5. Sock and heels (trust us on this one!)
Mega babe Hailey Baldwin shows us why - a) She's our favourite IT Girl, b) She can do no wrong in the fashion stakes, and c) Justin & Hailey are the cutest couple ever! Oh and that d) She has totally slayed nude socks and clear buckled Perspex heels like we didn't know was possible! Teamed with denim cut-offs and an oversized sheer shirt, this on-trend combo is a clear office fave!