Q&A with Carmen Hamilton
31 Oct, 2018
Meet the Australian fashion blogger with a seriously masters masculine-meets-feminine dressing.
Residing in a 1940's Interiors heaven beachside apartment in Sydney, Influencer Carmen Hamilton curates the Chroniclesofher blog providing daily fashion inspiration to a cult following.
We recently joined forces with Carmen to introduce our 'Kitten Heel' trend in her signature androgynously chic personal style.
We sat down with Carmen, scoring her styling tips on kitten heels and what trend she hopes comes back in fashion!
If you weren't busy being a style guru and running your own blog, what career would you be pursuing?
I can't really imagine my life any other way, but if Drake would ask me to be a backup dancer I'd totally quit my day job!
Do you cook much? If so what's your signature dish? Is there a secret to its success?
I like to mix it up and try new recipes because I get bored easily!
Describe your life using film titles.
The Matrix.
What is your most unusual and hidden talent that's time the world knew about?
Ummmm can't really think of anything! I'm weirdly flexible and all of my fingers are double jointed?!
What's the quote or personal mantra you live by?
When life gives you lemons, make lemonade.
What's 5 songs are on your playlist this summer?
Don't Matter To Me - Drake
Baby - Donnie & Joe Emerson
September - Earth, Wind & Fire
Unforgettable - French Montana
Wearing My Rolex - Wiley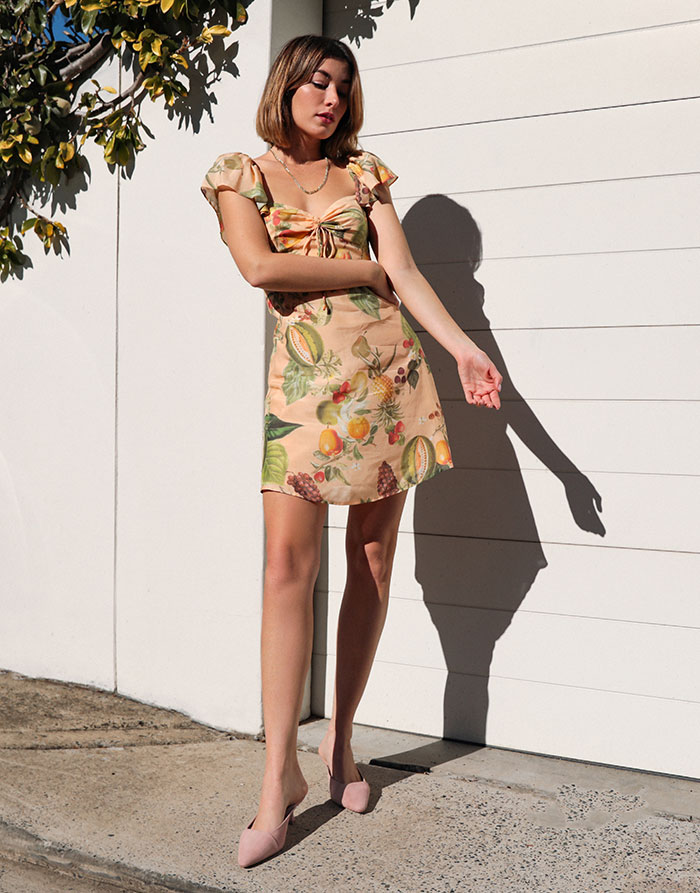 20 Oct
Trends: Combat Boots
We love a high-heel for being able to dress up your look and make your legs seem...
20 Oct
Time To Boot Up
Cooler days are coming in hot (but… cold) so we've put together the trends you need to...
04 Mar
Best Of: NYFW20
From the city that never sleeps, direct to you, these are the styles you're guaranteed to be...
27 Feb
Q&A With Moa Aberg
Super sweet, down-to-earth and blessed with ridiculously good looks, we have one serious girl crush on the...
23 Feb
Q&A with Alexandra Violante Ferreira
We took a quick break on-set to sit down with fashion stylist extraordinaire, Alexandra Ferreira to get...
06 Feb
Trend: Brown Is The New Black
Move over black, there's a new staple colour you need to know about. Discover why brown is...
06 Feb
Find Your V-Day Style
Some of us dread it, some of us count down the days, and some of us are...
06 Jan
How To Style Your New Shoes This Holiday Season
We've done the hard work for you and broken down your holiday style to match your social...
06 Jan
5 Comfortable Heels For Work To Keep On Rotation
Without further ado, here are the 5 most comfortable heels for work to keep on rotation. No...
15 Dec
You Girls and Your Denim
Things we love: a classic, a comeback and any excuse for cute meets comfort.
02 Dec
Trend: Animal Print
Anywhere you look this season, you can bet that an animal print will be staring you in...
05 Nov
Trend - Neutral Vibes
It can't be a mystery as to why neutral fever has taken over most of the world's...
05 Nov
Q&A with Debora Rosa
Describing her style as 'timeless with a twist', Debora's approach to street style mixes paired back basics...
22 Oct
Trend Alert: Thong Heels
When you hear the words 'thong heel' or 'thong sandal', your mind might be forgiven for immediately...
30 Sep
As Seen On: Caprice Heels
Spoiler alert: they go with literally every single piece in your wardrobe, from light-wash denim and thigh-skimming...
20 Sep
Q&A with Stacey Tan
We enlisted the beauty kween's expertise for our SS19 campaign with model/mega babe Maggie Rawlins. The brief...
20 Sep
Q&A with Maggie Rawlins
Maggie is the embodiment of a Tony Bianco girl. With her megawatt smile, relaxed personal style and...
24 Jul
Summer Shoes To Wear On Vacay
If you're chasing the sun in Europe (or any other pocket of the world), or if you...
04 Jul
Types of Trending Heels In 2019
After a lengthy preoccupation with casual footwear (think ugly sneakers) and classical silhouettes (think block heels and...
02 Jul
Q&A with Meri Gulin
The real life angel is the face of our latest Cruise Campaign, which was shot in her...
02 Jul
As Seen On: Best of June
The weather may be cooling down in Australia, but the Tony Bianco girl gang's style is heating...
21 May
Best Of: MBFWA
Fare thee well, Mercedes Benz Fashion Week. We hardly knew ye! While the main event on the...
13 May
How To: Wear Glitter Shoes
And just like that, glitter shoes became the hottest shoe trend of 2019.     The Wizard...
16 Apr
Coachella Outfits: The Festival Looks We Love
Piecing together your most Instagram-friendly outfit is as important as determining what artists you're going to drop...
09 Apr
Trend: Cowboy Boots
The Wild, Wild West (but make it fashion).   If the region just shy of our ankles...
27 Mar
Q&A with Maya Stepper and Deniz Alaca
If you haven't met Maya Stepper and Deniz Alaca, the cute dream team behind our latest A/W...
20 Mar
Top Fashion Instagram Girls to Follow Right Now
Looking for a new style muse? Well, look no further! We've spent an unhealthy amount of screen...
03 Mar
Best of: As Seen On
Sometimes we like to play favourites…So today we're bringing you a massive roundup of looks from our...
31 Oct
How To Style: Kitten Heels
When spring rolls around, trade in heavy shoes for light, fun footwear. The transition from brisk to...
31 Oct
Trend: Clear Heels
We're planning on baring it all this summer with the latest trend of clear heels at Tony...
31 Oct
Q&A with Rocky Barnes
Who better to launch our Pastel Collection than L.A. based goddess and all-round nice gal Rocky Barnes....
31 Oct
Q&A with Carmen Hamilton
Meet the Australian fashion blogger with a seriously masters masculine-meets-feminine dressing. Residing in a 1940's Interiors heaven...