Summer Shoes To Wear On Vacay
24 Jul, 2019
*Turns on out of office immediately*
Yikes, things are cooling right down in the Southern Hemisphere right now! Summer is but a distant memory, our skin has transformed into a nice shade of translucent, and we're wrapped up in so many layers we feel like we'd probably qualify more as 'onion' rather than 'human' right now.
The fact that the weather is so gloomy probably explains why every second person on our Instagram feed is currently sprawled on a white pebbled Mediterranean beach—book in one hand and an aesthetically-pleasing drink in the other—having had the good sense to book flights to the biggest event on the social calendar: European Summer.
If you're chasing the sun in Europe (or any other pocket of the world), or if you just want to get a head start on your summer look for the Aussie summer, we've rounded up the best shoes for you, no matter your style. Sandal kinda gal? No worries! Hankering for a heel? We got you! In need of a wedge? Say no more! Prefer your shoes flat? Keep on reading!
Pop on your OUT OF OFFICE and let's step out in style, shall we?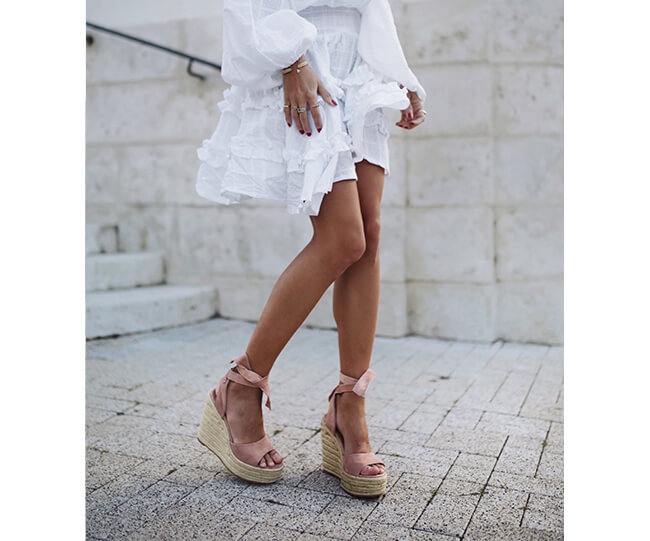 Espadrilles
Nothing screams "I've just spent the last week eating bulk seafood and drinking Aperol spritzes in Mallorca" quite like a pair of tie up wedge heels. Live out your best Euro summer life with a pair of pink, black or striped espadrille shoes. They're just as versatile as your favourite summer sandal, and can be paired with everything from linen dresses to denim shorts and a t-shirt. Style queen status, here you come!
Wedges

Time to set those pins free, friends! Nothing compliments a mini floral wrap dress quite like a wedge heel. Oooh la la! So Frenchy, so chic! Providing height and
comfort, the wedge is a non-negotiable for your holiday wardrobe. Trust us:
you're strolling along the Seine with a gelato in hand, your feet will thank
you dearly (and will be none the wiser that you're wearing a heel).
Sandal shoes
Given that temperatures in Europe are soaring well into 30 degrees RN, it's likely that you will be #dying to park your boots and opt for a pair of leather sandals instead. It's 100% guaranteed that you'll want a pair of flat summer shoes in your arsenal, given the amount of sight seeing you'll be doing. No vacay capsule wardrobe is complete without the addition of a pair of jazzy black leather sandals. Styled with fluid silhouettes and silk slips, our leather Finola sandals are the perfect beach-to-bar vacay companion. They're casual enough to stroll around the cobbled streets of Paris eating pain au chocolats and drinking espressos in,
but dressy enough to wear as you sip Aperol Spritzes while the sun sets over
the Amalfi Coast and a salty sea breeze gently slaps you in the face.
Platform Slides
Become the Aaron Slims painting you wish to see in the world with a pair of platform pool sides. No pool-side outfit is complete with the addition of this, the most summer-friendly of shoes. From sarongs and seersucker bikini tops to linen
shirts and hot shorts, your outfit is guaranteed to get 1000% more fi-yah with
a pair of platform slide shoes.