Q&A with Rocky Barnes
31 Oct, 2018
With wavy flowing locks, exotic Mexican/Filipino heritage and a passport to rival the most seasoned traveller, Rocky Barnes is a Californian native who knows how to wear colour. Here, the inspirational model and blogger shows us how to nail the latest Pastel coloured shoe trend, her favourite travel spots and what 3 items every woman needs in their wardrobe!

Pastels are a key trend for us this Spring Summer, what are your top 5 tips on how to wear pastel coloured shoes?
Pastels are actually easier to wear then you would think. I love wearing them as a colour pop in an outfit. Wearing all white with a pastel pop, or denim and any neutral with a pastel pop!

I also love the idea of mixing pastels... feel free to load them on as long as they are all in the same tone! Another way to rock pastel is pairing with a complementary colour! I love the idea of wearing red and light pink, or a forest green with a butter yellow, or a royal purple with a lavender!


What was your favourite look from the shoot? And why?
One of my favourite looks was the yellow blazer and yellow mules! I'm all for a matching moment and those coloured mules make your legs look a million miles long!


Describe your style in 3 words.
Californian, eclectic, colourful!
" I love the idea of mixing pastels... feel free to load them on as long as they are all in the same tone! "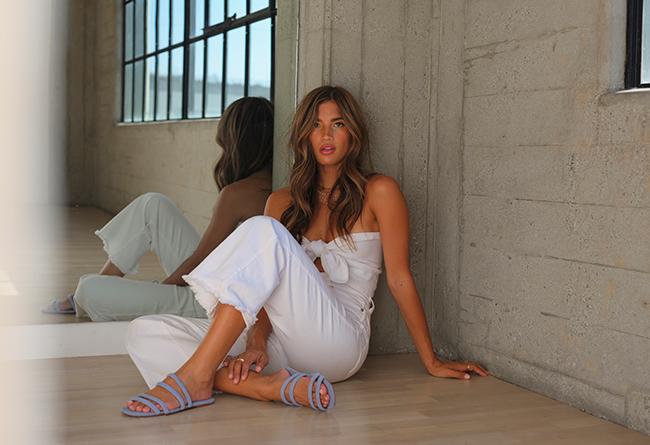 What are the 3 items every woman should have in her wardrobe? And why?
I love trying new trends but I find that I always go back to the staples, good denim, shorts or pants, and I prefer high waisted for my body type, a good blazer, in many colours, and a pair of leather heels or sandals that make you feel sexy!


Where do you pull your style inspiration from?
I pull style from all over! Definitely from my travels, but I also love street style! I could sit at a cafe and people watch for hours!
I also pull a ton of inspo from vintage fashion, if it was able to stand the test of time, and is still cool, it will probably always be cool...
You're a woman of the world, we always have serious travel envy from all travel pics on Insta, where is your favourite place you've travelled to and why? 
Visually I am in love with India and Morocco, but obsessed with the Tulum lifestyle!

If you could interview one person (dead or alive) who would it be?
Iris Apfel! She is my style guru and lived the most colourful life!


If you were stranded on a deserted island, name 3 things you would bring?
My husband Matt, music, and sunscreen…