Q&A with Stacey Tan
20 Sep, 2019
When it comes to beauty, Stacey Tan has been around the block (many, many times). The LA-based hair and makeup artist has worked with all of the fab brands like Love and Lemons, Free People, Lululemon and Nasty Gal since graduating from The Makeup Designory (MUD) and has one of the most drool-inducing beauty Instagram feeds we've since in a minute (honestly, if you do yourself one favour today, it should be losing yourself to an hour-long stalk session/inspo frenzy here). Having jazzed up all your favourite Victoria's Secret faces—like Isabeli Fontana, Elsa Hosk and Georgia Fowler—it's safe to say that Stacey is exceptionally qualified to throw together a fierce beauty lewk.
We enlisted the beauty kween's expertise for our SS19 campaign with model/mega babe Maggie Rawlins. The brief was au naturale, and she pulled it off with aplomb, lightly waving Maggie's hair with a rounded flat iron technique and keeping the makeup palette to low-key, camel tones. While we had her on-hand, we asked the beauty aficionado all the hard-hitting questions about beauty that we could think of, from her tips on recreating Maggie's look from the safe confines of our bathrooms and what her favourite products of the moment are, to the trends she thinks will be permeating our lives for the next season and where she sources her beauty inspiration from. Some spoilers: natural beauty looks are here to stay, you need a flat iron in your life stat, probiotics should be your new BFF, and prioritising a solid skincare routine is paramount to creating any makeup look.
We emerged from the shoot with a whole bunch of hot beauty secrets (that's why our hair's so big!), which you can soak up via our chat with the makeup wizard below. Thanks, Stacey!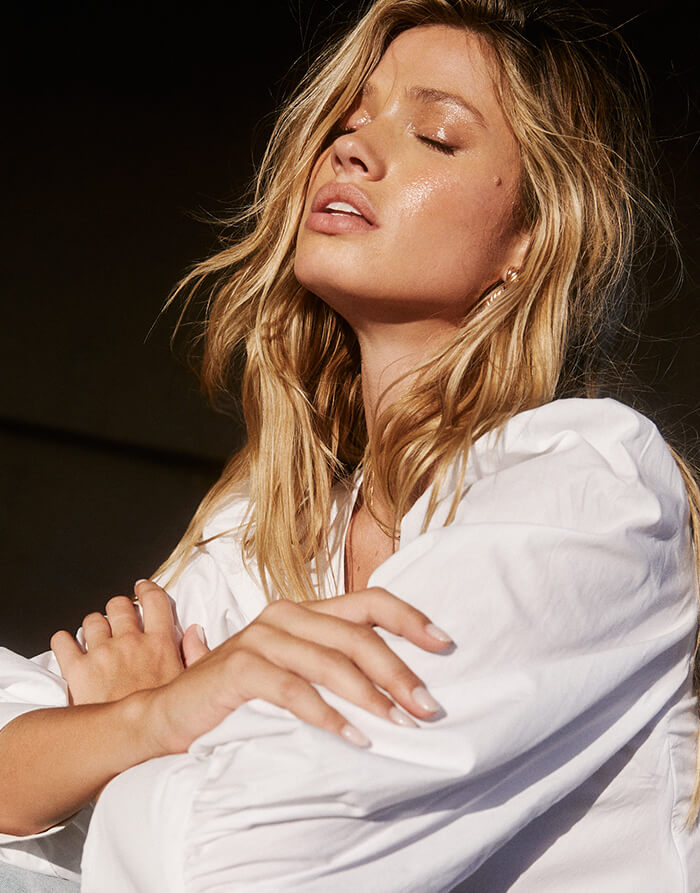 Hi! Can you please tell us more about the hair and makeup looks you created for our Spring Summer campaign?
The look for this campaign was based on the idea of feeling effortless and glowing. In terms of hair, Maggie arrived at the shoot with an amazing, airy texture already. I wanted to keep that but refine the hair framing her face using a rounded flat iron technique.
For her makeup, I used a matte camel tone to make a natural shaded shape for her eyes. I used highlights on the high planes and inner corners of her eyes and packed on mascara onto curled lashes!
How do we achieve the look?
You can achieve this look by hiring me [laughs]! Failing that, keep in mind that I go heavy on highlighter (because glowing is never a bad thing these days) and am also a big fan of a nice concealer (which you should blend till you're dead)! Oh, and put down the curling iron and trade it in for a flat iron to create a more Kate Moss/cool girl wave. Search YouTube, babes!
What are the key make-up trends for this Spring/Summer?
I think there are a lot of trends happening now for summer after the HBO show Euphoria came out. Gems, glitter, highlighter tones, etc. Also, girls love a glossy eye and lip these days, and I'm doing that a lot for shoots. I also think fresh skin and less makeup is a trend that's happening right now and set to stay.
What are the key hair trends for this Spring/Summer?
Hair trends for Spring/Summer are very clean and snatched, I think, and with good reason—it's so comfortable and so classy! I love a good sleek, center-part low ponytail, which works for most hair lengths and is so chic.
What are your top three beauty tricks right now?
Three beauty tricks I've come across lately are:
A product called Biologique toner p50, which has changed my skin for the better. It's pricey, but I now can't live without it.
Minding my diet and including probiotics into it. A client suggested I buy Farmhouse Culture Gut Shots (I got dill flavour, it's so good!) and it makes my skin G-L-O-W. I do think your skin is a canvas for makeup, and makeup can only go so far, so skincare is so important.
Realising the importance of using sunscreen on your face daily! I found this amazing one on Amazon that is non-greasy and works! It's called Biore UV watery Essence Aqua Rich.
Best nail polish colour?
My favourite nail polish is Essie Gel in Sheer Fantasy. I'm on my third bottle as we speak!
Where do you get your beauty inspiration from? Any Instagram accounts we should be following?
I know it's cheesy but I get my beauty inspo from life, honestly. I do love seeing art on Instagram, but I still find myself interested in colours and textures from nature and walking around in the world.
What's your number one beauty product that you cannot live without?
My number one beauty product I can't live without is a LASH CURLER! My favourite is from the Japanese store, Muji.