Q&A with Meri Gulin
02 Jul, 2019
Full name: Meri Gulin

Where were you born: Croatia

City currently living: Los Angeles

Star sign: Pisces

Favourite food: Italian!
Dream woman Meri Gulin is a Croatian-born model who grew up in Halmstad, Sweden. She had her runway debut for Italian clothing label, Intimissimi, in 2013 and hasn't looked back since.
When her A+ smile isn't beaming from the cover of some of the most covetable magazines in the biz—from GQ, Maxim, L'Officiel Switzerland, Grazia and Cosmopolitan Italia—you'll find her fronting campaigns for brands like Swarovski and Tarte Cosmetics. Big, HUGE!

The real life angel is the face of our latest Cruise Campaign, which was shot in her hometown of Los Angeles by the hyper talented Angelo Sgambati. To celebrate, we sat down with her to talk all things travel, fashion and personal style. Get to know her a lil' better below…
WHAT DOES A TYPICAL DAY IN YOUR LIFE LOOK LIKE?
I always feel better starting my day with a workout or some kind of activity early in the morning before I start my day. If I am not working, I usually have a couple of castings which, when living in Los Angeles, can take quite a few hours to get to and from. I enjoy spending my evenings at home, surrounded by nature where I can play with my two dogs, or just relaxing, cooking food and watching Netflix.
WHEN YOU'RE NOT WORKING HOW DO YOU LIKE TO SPEND YOUR TIME?
I have always loved traveling—seeing new places, experiencing different cultures, and meeting people—so whenever I get time off, I try to take a weekend away or even just a little road trip somewhere nearby.
Also, I just got a French bulldog Loui who I'm obsessed with. He's taking a lot of my free time up, [laughs].
WHAT'S A DESTINATION/TRAVEL HIGHLIGHT THAT WORK HAS TAKEN YOU?
I have been lucky to be able to travel to so many different places with work, but Cape Town in South Africa was probably one of my favourite destinations. There was just something so magical about that place!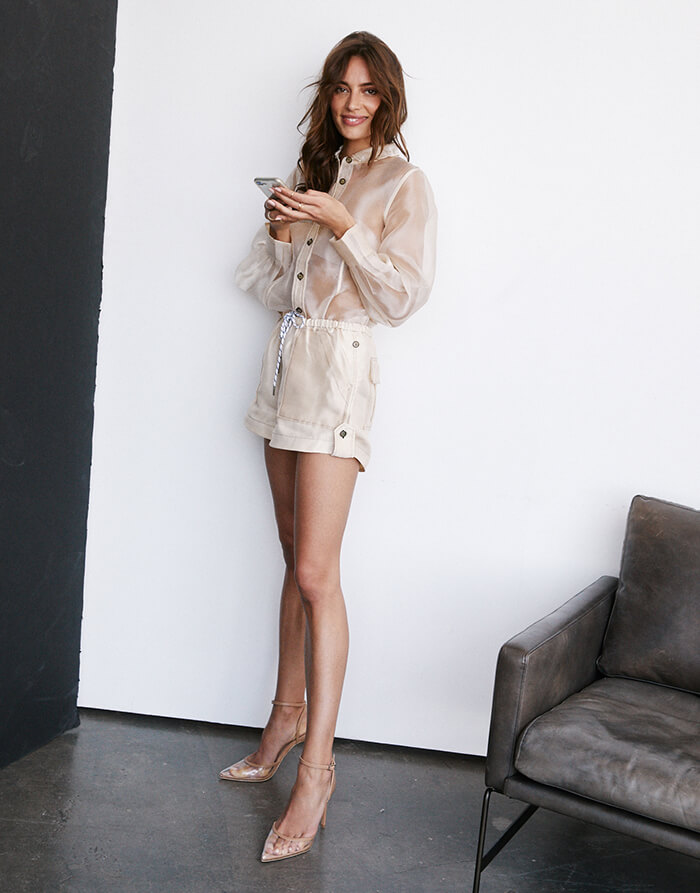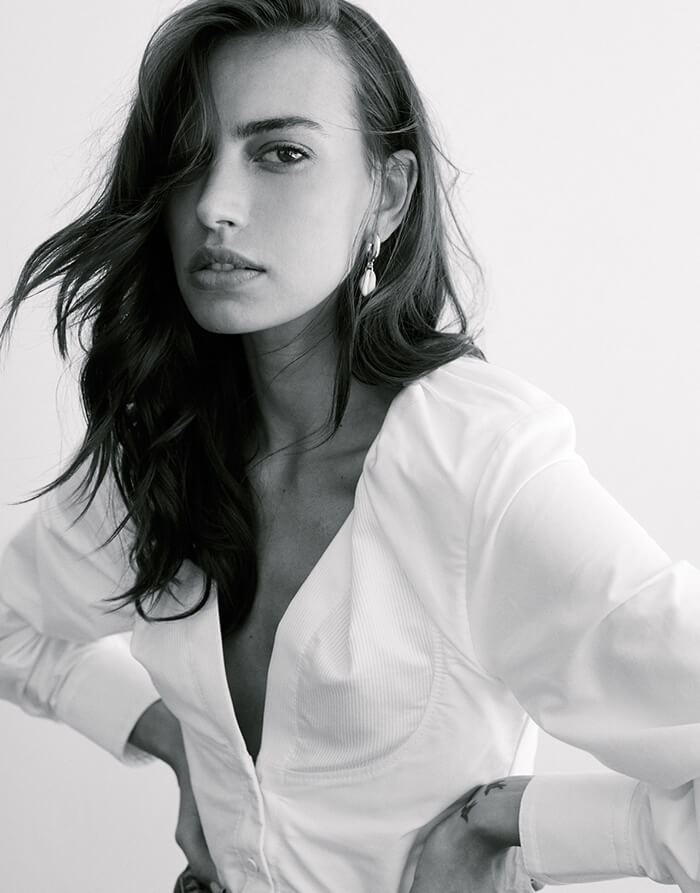 WHAT WAS YOUR FAVOURITE LOOK FROM THE SHOOT? AND WHY?
I have always been a jeans and heels kinda girl.
DESCRIBE YOUR PERSONAL STYLE
I love classic vintage jeans and a t-shirt. But, I'm a huge fan of 80s and 90s fashion and incorporate those decades into everything I wear.
WHAT'S YOUR GO-TO LOOK?
A pair of vintage Levi's denim, a cute top and a little heel. Voila, you're ready for an evening dinner or night out!
WHO IS YOUR STYLE ICON? WHY?
My style icon is Alexander McQueen. While alive, he pushed fashion somewhere it had never been. It was edgy, provocative and made you react—his work still holds up today and remains timeless. I love simple normally, but when I want to step it up, his work inspires me to push the envelope and be different.
WHO ARE YOU LOVING ON INSTAGRAM RIGHT NOW? WHY?
There are so many amazing Instagram accounts out there, but if I would pick one it would be @hoskelsa. I've always admired her style and boldness for it. And, on top of that, she takes the cutest pictures.
FAVOURTE TREND RIGHT NOW?
I am sooo into oversized suits or blazers. Obsessed.
WHAT /WHO ARE YOUR GO-TO SOURCES OF STYLE INSPIRATION?
Social media for sure. It's so easy today to have it all on one platform.
BEST BEAUTY ADVICE RECEIVED?
Smile!! It's the most beautiful asset we have and we should wear it everyday!
WHAT'S YOUR PERSONAL MANTRA THAT YOU LIVE BY?
Trust your instincts, be prepared, and allow the universe to guide you.
WHAT'S ONE THING MOST PEOPLE DON'T KNOW ABOUT YOU?
One thing people may not know about me is that I love to paint. It's the one thing that I can get lost in for hours and shut out the world. My mind never stops thinking, and painting helps all those thoughts disappear into being creative and at peace.