Q&A with Maya Stepper and Deniz Alaca
27 Mar, 2019
If you haven't met Maya Stepper and Deniz Alaca, the cute dream team behind our latest A/W '19 campaign, then it's advised you stop whatever it is you're doing and tune in. The talented NYC-based creatives are totally MFEO, as evidenced by that time we asked them to work on our western-inspired campaign together, and they came back with a fun, vibey shoot that's 100% guaranteed to make you want a pair of cowboy boots to call your own.
This isn't model Maya's first rodeo. The mega honey has featured in the much-coveted Victoria's Secret Swim campaign, and has been shot by countless fashion behemoths like Free People and Reformation. When she's not slaying in front of the camera, she's showcasing her enviable, travel-heavy lifestyle to her 600k+ Instagram fans and putting together the effortlessly chic outfits of our dreams. As for Deniz? The photographer first appeared on our radar when we happened upon her colourful Instagram feed, a treasure trove of feel good snaps of some of the coolest women in the biz.
Find out the story behind how they "fell in friendship at first sight", how they'll be incorporating the cowboy boots trend into their wardrobes this season, and what makes their (wild) hearts beat a lil' faster, creatively, below…
What I loved most about this shoot is that I got to become a bit of a different character. I was really feeling the rebellious vibe of the boots in this collection.
So, you're originally from Germany. What sparked the decision to relocate to NYC?
Deniz Alaca: I spent a year in NYC when I was 19. I always dreamt of moving back one day, and then about two and a half years ago, everything kind of fell into place. I can now finally call NYC home.
Maya Stepper: I could always see myself living in NYC, but never felt ready to make the move. Two years ago, I went through a difficult time in my life. My visa was approved at the same time. I said to myself: this might be a good time for something new. NYC has changed both my life and career!
What do you love most about NYC?
DA: I love the diversity. The stories, the different cultures, the food. There's so much to explore and see. I love NYC!
MS: I agree with Deniz. It never gets boring and everyone has a story to tell. It's the city that never sleeps, and neither do we ;).
How did you get into photography? Did you take a course, or are you self-taught?
DA: I'm self-taught. I studied Visual Communication, and was more on the design side. I started taking pictures for fun and it clicked (literally). From that 'aha' moment it took me a lot of practice, hard work and perseverance.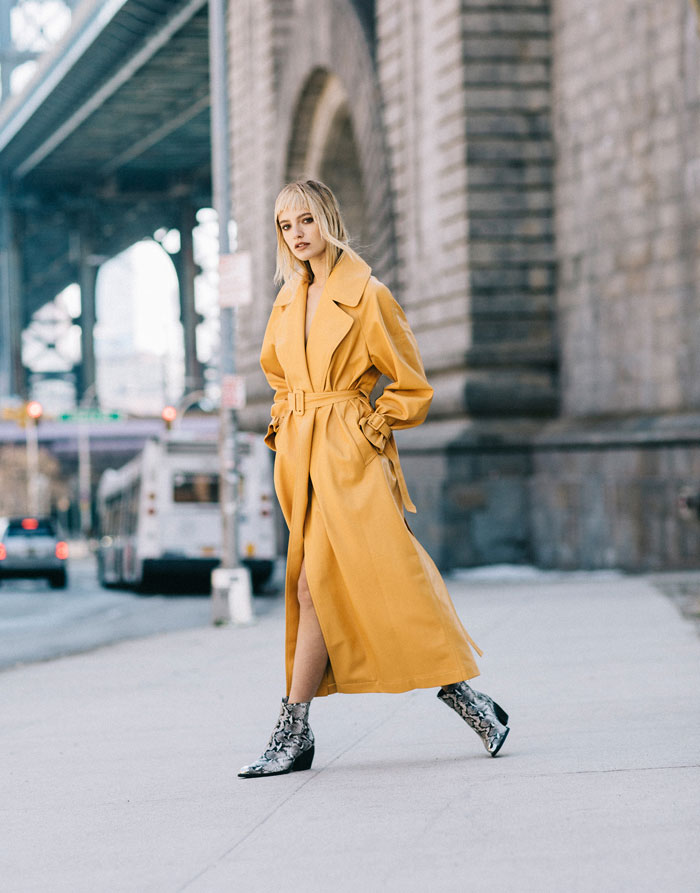 What advice would you offer anyone looking to take a leap into the creative world?
DA: Just start. Don't overthink it. If you want to get into photography, start assisting and shooting to develop your own visual language, and also learn more about the business side of being self-employed.
What does a typical day in your life look like?
There is no typical day in our lives! [Both laugh].
What are your go-to sources of inspo?
DA: Definitely not online. Traveling and listening to people's stories inspire me endlessly.
MS: Similar to Deniz.
Different people and cultures inspire me the most. I do get a lot of inspiration
from the internet too, though. I follow so many cool chicks! When looking for
fashion inspiration, the streets of NYC and Instagram have a lot to offer.
You guys are great friends. How did you meet?
DA: We actually lived in the same city in Germany but never met. Our paths finally crossed in Cape Town while I was working on my portfolio and Maya had just started modeling. I was one of the first photographers to take her picture. We became friends immediately.
MS: We shot on the beach and the moment we started telling each other our stories, I fell in friendship at first sight! Two days later we went on our first road trip
together.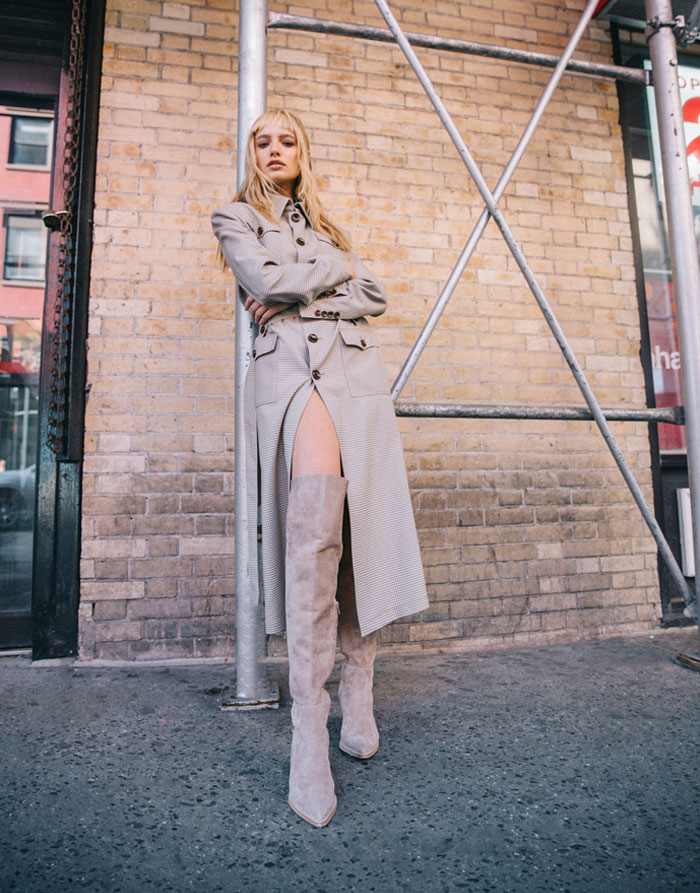 What is one travel/destination highlight that your work has given you?
MS: We have literally traveled the world together! That's another reason why we are such a dream team. There's nothing cooler than working with your best friend and seeing all these beautiful places. Hawaii was my personal favorite.
DA: Shooting Maya for a cover story for one of our favorite German Magazines, BLONDE, in Tokyo was a major highlight. And so much fun! She made me try fresh oysters at the fish market—I might not have forgiven her yet…
MS: [Laughs]. I haven't given up yet. Let's go back and change your mind.
What is your favourite pic from the shoot with us and why?
DA: I really love the shots at the skatepark. Maya's ultra-feminine look mixed with the skaters in the background is 100% my own aesthetic.
MS: What I loved most about this shoot is that I got to become a bit of a different character. I was really feeling the rebellious vibe of the boots in this collection, so we decided to go a bit more edgy with the makeup and hair. My favorite shot is the one in the telephone booth, where I'm being all provocative.
The western trend is big in footwear this season. How do you plan on wearing it?
DA: I love the trend, but would dress it down with vintage Levi's, a t-shirt and hoops.
MS: Cowboy boots might just be my favourite trend this season! I love them paired with a feminine dress or denim. And, even the ankle boot with a suit can look
BOMB!
You can shop the western-inspired collection for yourself here.