Q&A with Maggie Rawlins
20 Sep, 2019
Angelic, traffic-stopping, carefree, mega babe and ray of sunshine are just some of the adjectives that might subconsciously pop into your head as you scroll through Maggie Rawlins' Instagram page (which FYI has amassed over 200k followers and counting). While the model/newlywed might spend her days traipsing around the globe, posing for various high-profile photographers in campaigns for magazines like Sports Illustrated and for brands like GUESS, this wasn't always the case. In a previous life, the 25-year-old worked as a nurse in hematology/oncology after graduating from nursing school and passing boards. Talk about multi-talented!
Despite growing up in an artistic household—with a photographer dad and artist mom—entering into the modelling industry was never a dream for the Southern Belle. So why did she swap hospital hallways for a more glamorous pursuit? An opportunity to sign with two major agencies came up, and she knew that if she didn't give it a shot, she would have always wondered 'what if'.
Boy, we're glad she took a leap of faith! Maggie is the embodiment of a Tony Bianco girl. With her megawatt smile, relaxed personal style and feel-good aura, the junk food and Alabama Shakes-loving gal is a true delight to be around (and to look at, TBH), hence our decision to shoot our SS19 campaign on her. We headed off-the-beaten-track to Wright Ranch in Malibu, California to dress her up in our new SS19 collection. Nestled in the Santa Monica Mountains and overlooking the Pacific Ocean, the rawness of the unfinished concrete home, designed by Eric Lloyd Wright, was the perfect backdrop to bring our campaign to life.
Once we wrapped, we sat down with the model for a quickfire round of questions pertaining to everything from fashion and Netflix shows to her personal style. Get to know her a little bit better below!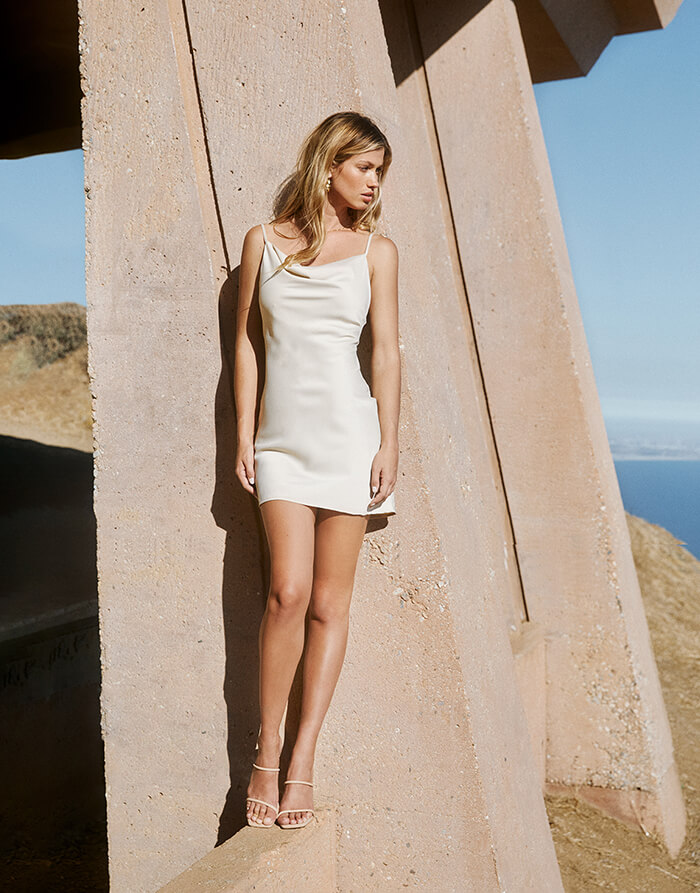 What is your star sign?
I'm a Gemini.
What was your favourite outfit from the shoot?
I loved the nude dress with the strappy nude heels.
What music are you listening to right now?
Alabama Shakes!
How do you describe your personal style?
Casual, relaxed and all about those wardrobe staples.
What is the most amazing place you have travelled to?
Turkey. Also, I have been to Australia and I loved it—although I didn't try vegemite, I was a little turned off by the look and smell of it [laughs].
What us something that not many people know about you?
That I used to be a nurse.
What is your guilty pleasure?
Trash TV, junk food (BBQ chips, french fries—anything like that really.) Oh, and chocolate.
What are you watching on Netflix right now?
I'm waiting for Peaky Blinders to start back up. If you haven't seen it, you have to go watch it! I'm really into organised crime.