How To: Wear Glitter Shoes
13 May, 2019
And just like that, glitter shoes became the hottest shoe trend of 2019.
The Wizard of Oz's peachy lead, Dorothy, Gale is perhaps the greatest proponent of glitter shoes and their magical powers. By clicking the heels of her ruby slippers and repeating the phrase 'There's no place like home', the mystical shoes were able to transport her far away from the evil clutches of the Wicked Witch of the West and back to the safety of her humble abode. More importantly though, did you witness how those glitter bad boys jazzed up her low-key check blue and white dress, making it appropriate for all manner of occasions—from kicking back with Toto and the tin man to visiting the Wizard himself? Now that's magic.
Closer to home (we're not in Kansas anymore, remember?), Instagram babes and celebs alike are leaning into the glitziest shoe trend of 2019, proving that the silver and black glitter shoes are a suitable companion for feet all over the world, no matter what the dress code demands.
So, now that diamonds are being edged out by equally-as-shimmery shoes in the 'Girl's Best Friend' category, you might be asking yourself the question: "How in glitter's name do I go about wearing them?". The good news for women the globe over? We have the answers to all your glitter shoes-related questions. And, the bad news? Well, it's likely you'll never want to adorn your feet with another pair of shoes ever again.
OK, here goes!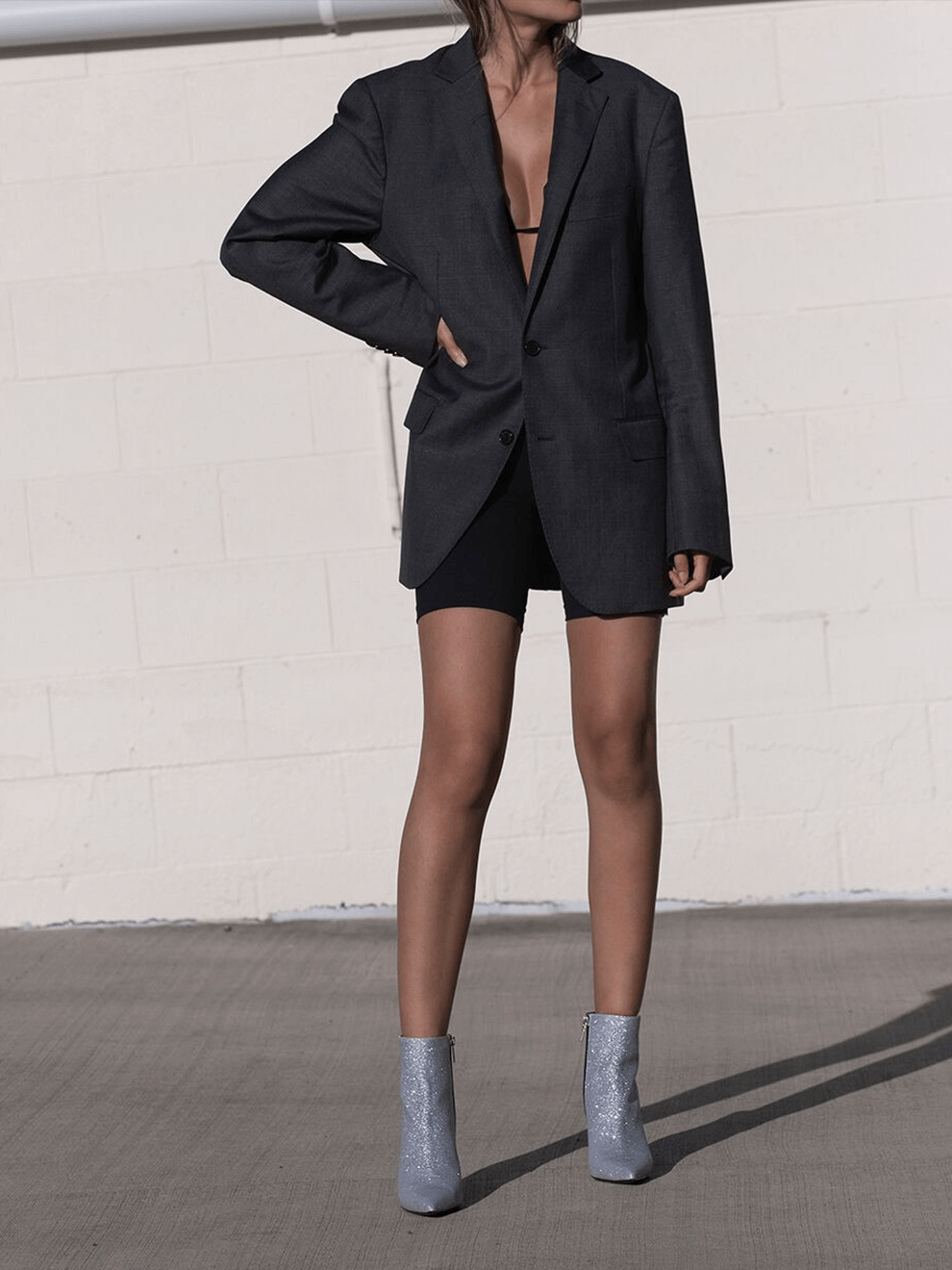 1) Opt for a classic silhouette
The first stop on your path to glitter shoes enlightenment is determining what style suits you (and your wardrobe) best. To balance the flashiness of shoes doused in glitter, it's best to keep the style classic and understated, which is something we had in the forefront of our minds when designing our F-A-B range of glitter shoes for women.
We glitter-fied our three most iconic shoes - the sling-back kitten heels, pump shoes and boots— in both black and silver so you can put your most sparkly foot forward, always.
2) Remember that opposites attract
Let your embellished shoes (whether they're a pair of heels or boots) do all the talking by keeping the rest of your look minimal. If you're after a perfect desk-to-drinks look, go for a faded pair of denim jeans and a silk chemise paired with sling-back heels. For a street style-worthy look that'll carry you through the day, match your glitter booties with a turtleneck, leather jacket and a pair of well-tailored trousers. Embrace the feminine on your next night out with a pair of sparkly pumps and a classic navy or black slip.
An understated colour palette—grey, white black, navy and camel—will ensure that this season's sparklers P-O-P, thus making every day glitter shoes day.
Borrowing from the utilitarian-inspired trend up the top will add a nice touch of dichotomy to the shoes, whether that be via a trench coat or a pair of cargo trousers.
3) But, sometimes it's okay to lean into the sheen
If maximalism is more your vibe, then by all means eschew basic wardrobe accoutrements for outfit pieces that match the pace of your new glittery BFFs.
A metallic coat paired with glitter boots will be more effective at making traffic stop than a set of pedestrian lights. And, if you want to resemble a shiny disco ball (who wouldn't TBH), a pair of silver pants paired with a sling-back heel and a one-shouldered top will get you there. If you're after a *safer* outfit, then look no further than a mini skirt, a checked blazer and a statement designer bag to go with your flashy friends.