How To Style: Kitten Heels
31 Oct, 2018
While some seasoned fashion fans commend their comfort for day-to-night wear and others admire the instant glam this flattering silhouette offers, there's no denying that the Kitten Heel has returned and isn't going anywhere anytime soon.
Worn by TB favourites such as Carmen Hamilton, Rocky Barnes and Kendal Jenner, the Kitten Heel is a wardrobe essential for women on the run.
Don't know how to style the sensible Kitten Heel?
Don't worry, we've got your back with 8 easy ways to rock the Kitten Heel!
" When in doubt, pair kitten heels with cropped trousers. It's always a winning combo! " - Carmen Hamilton, Founder of Chronicles Of Her
TIPS TO KITTEN HEEL PERFECTION
1. Mom Jeans and a Cropped Tee
This classic combination is no stranger to the street-style scene. For those brunch dates that turn into late-lunches or the impromptu drinks you get with your girlfriends after a spot of shopping. The kitten heel relishes in a dressed-down approach for the cool laid-back women out there.


2. Midi Slip Dress
Another nod to the nineties, the silk slip dress floats between feminine and edgily sexy. Slip on a sling-back pump Kitten Heel to elevate the slip to sleek.


3. Mini Dress & Bold Accessories
Let the accessories do the talking. Pair a simple mini with heels that promise to elongate your pins to their highest height and statement earrings that will balance that boldness.


4. Trench & Trousers
One for the ages, the trench and wide leg trouser is a Parisian staple combination not to be messed with. Pair with a killer pointed toe kitten heel for the ultimate Paris Fashion Week uniform that will give you instant style points.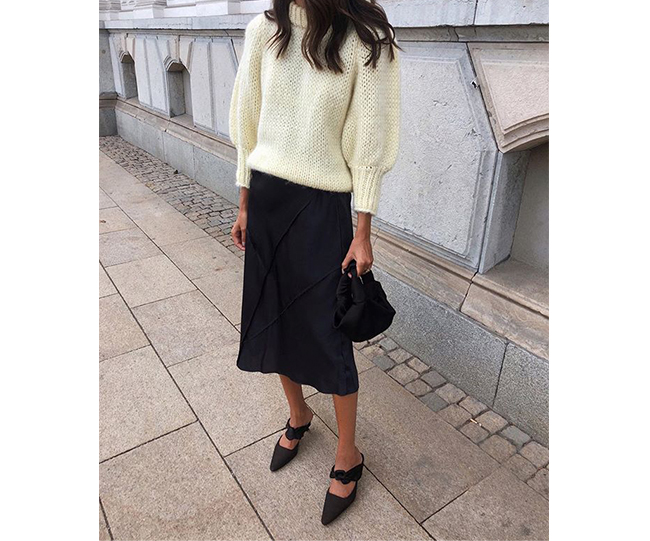 " Pop your hair up, throw on some statement earrings and a red lip and it will instantly elevate kitten heels for the PM! "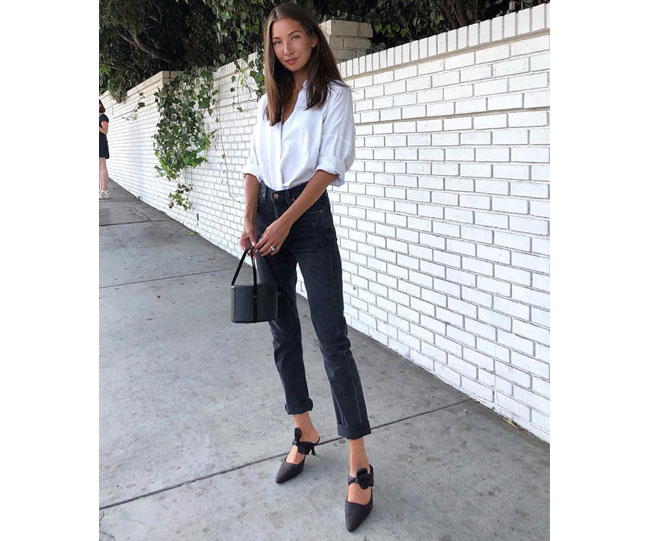 5. Cashmere Crop & Tapered Pants
Think beautifully buttery luxe cashmere cropped with a high waist tailored cigarette pant, cropped at the ankle. Now add a sling-back kitten heel with black bow ribbon detailing and you have a chic, year-round look that will take you from work meetings to date-night ready in a flash!


6. Full Skirt and Silk Bomber Jacket
A style nod to the fifties, modernise the full midi skirt with a silk bomber jacket and kitten heels with clear vinyl detailing. A demure shoe addition to a bold statement outfit.


7. Boho Floral Maxi Dress
Take a 70's flowing flower-child staple and add a pop of block colour. Featuring buckles and a range of bright suedes on offer, modernise a decades-old trend before your eyes.
8. Jeans & An Oversized Sweater
Dressing up a casual brunch outfit? Easy Peasy! Take your skinny leg jeans paired with a textured oversized sweater and slide into a bold red Kitten Heel à la Geva in the red leather. The colour of confidence, this touch of fearless red will make you stand out from the crowd for all the right reasons!
There's no need to wait to try the trend. Make like fashion IT girls and embrace the Kitten Heel! Shop our New Arrival styles now.
There's no need to wait to try the trend. Make like fashion IT girls and embrace the Kitten Heel! Shop our New Arrival styles now.